Emotet's polymorphic nature and numerous modules enable it to avoid detection. The malware's creators are constantly changing their techniques and procedures in order to render existing detection rules obsolete. To remain in the infected system, it downloads additional payloads through a series of steps. Because of its behaviour, malware is nearly impossible to remove. It spreads quickly, generates faulty indicators, and adapts to the needs of attackers.
Emotet is a complex, ever-changing modular botnet. In 2014, the malware was just a a banking trojan. Since then, it has added new features, modules and campaigns.
2014. Money transfer, mail spam, DDoS, and address book stealing modules.
2015. Evasion functionality.
2016. Mail spam, RIG 4.0 exploit kit, delivery of other trojans.
2017. A spreader and address book stealer module.
Following its return in 2021, Emotet ranked first among the top three uploaders in the ANY.RUN sandbox. Even after such a long break, it regained popularity. All Emotet trend statistics are available in Malware Trends Tracker, and the figures are based on public submissions.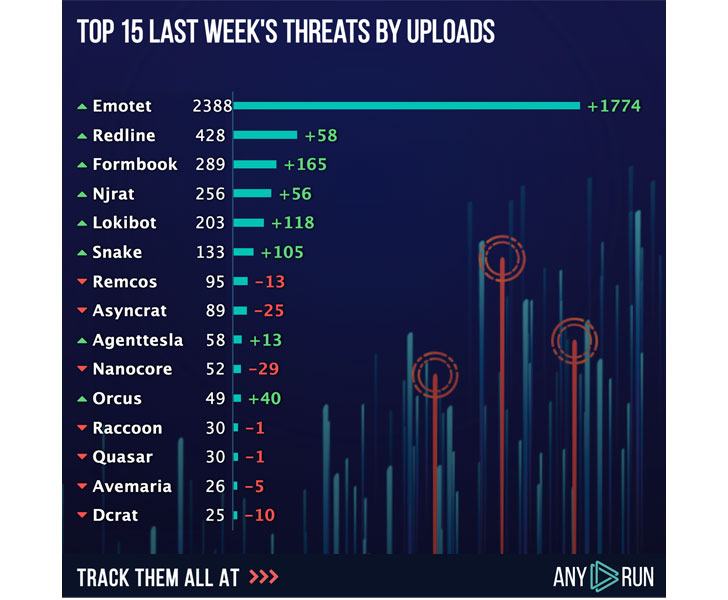 The Emotet campaigns begin with a malspam email containing Malicious Office Documents (weaponized Microsoft Office documents) or hyperlinks attached to a phishing email that is widely distributed and tricks victims into opening malicious attachments. The weaponized Microsoft Office document is executed through VBA code and an AutoOpen macro.
Emotet spreads through malicious email campaigns that typically contain Office Documents. And the malware is very inventive with its maldoc templates. The botnet is constantly changing them, imitating programme updates, messages, and files. And the content incorporates the obfuscated VBA macro and makes it visible.
Emotet used a doc with an Office 365 message in the summer of 2020. The image remains unchanged, but it has been converted to XLS format. In addition, the first time was used in hexadecimal and octal formats to represent the IP address from which the second stage was downloaded in this new version. A later method was modified and scumbags no longer use the HEX encoded IP to download the payload.
If you need complete information on the Emotet sample quickly and easily, use modern tools. ANY.RUN interactive sandbox enables real-time monitoring of processes and immediate receipt of all required data. Suricata rulesets detect a variety of malicious programmes, including Emotet.
Finally the researchers concluded that ," we recommend that you look through our public submissions for new samples that are updated on a daily basis. Emotet is a beast among the most dangerous cyber threats out there. The malware enhances its functionality and strives to avoid detection. That is why it is critical to rely on powerful tools such as ANY.RUN."