Since May 2021, a botnet known as PseudoManuscrypt has been targeting Windows workstations in South Korea, using the same delivery methods as another virus known as CryptBot. South Korean cybersecurity firm AhnLab Security Emergency Response Center (ASEC) stated that , "PseudoManuscrypt is disguised as an installer that is identical to a type of CryptBot and is being spread."
According to ASEC, approximately 30 computers in the country are infected on a daily basis on average.
A approach like this targets random users, and it has been established that a large number of PCs in Korea have been infected.
PseudoManuscrypt attacks, which were first discovered in June 2021, targeted a large number of industrial and government institutions in Russia, India, and Brazil, among others, including military-industrial complex firms and research centres. It was originally discovered in December 2021, when Russian cybersecurity firm Kaspersky revealed details of a "mass-scale spyware assault campaign" that infected over 35,000 PCs in 195 countries around the world.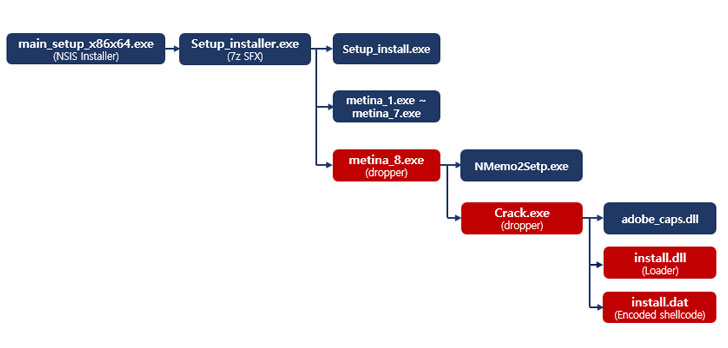 The graph depicts the number of logs discovered from the start of distribution (May 2021) until the present. The number of infected PCs is shown in green, while the number of detected files is shown in red. As you can see, approximately 30 PCs were infected on a daily basis on average.
The main payload module has a wide range of activities , giving the attackers practically complete access over the compromised PC. Stealing VPN connection information, recording audio with the microphone, and capturing clipboard contents and operating system event log data are all part of it.
Finally the researchers concluded that ," malware tries to present as an illegal software installer and is delivered to random individuals through  malicious websites and users must be careful not to download related programmes. Periodic PC maintenance is required because dangerous files might be registered to service and perform continual malicious activities without the user's knowledge."
Indicators Of Compromise
1fecb6eb98e8ee72bb5f006dd79c6f2f
5de2818ced29a1fedb9b24c1044ebd45
58efaf6fa04a8d7201ab19170785ce85
839e9e4d6289eba53e40916283f73ca6
89c8e5a1e24f05ede53b1cab721c53d8
5e6df381ce1c9102799350b7033e41df
a29e7bbe6dee4eea95afa3f2e3a1705a
8ae40c8418b2c36b58d2a43153544ddd
email.yg9[.]me