According to new ThreatFabric research, two different Android banking Trojans, FluBot and Medusa, are using the same delivery method as part of a simultaneous attack campaign.
Cabassous' (aka Flubot) distribution campaigns, which have been "SMiShing" different regions all over the world for nearly a year, have attracted the interest of another threat actor. Similar to Anatsa's campaigns discovered by ThreatFabric in May 2020, Medusa, a powerful mobile banking Trojan, is now being distributed through the same SMiShing service as Cabassous.
The overlapping use of "app names, package names, and similar icons" in the ongoing side-by-side infections, facilitated by the same smishing (SMS phishing) infrastructure, according to the Dutch mobile security firm.
Medusa, which was discovered targeting Turkish financial institutions in July 2020, has gone through several iterations, the most notable of which is the ability to abuse Android accessibility permissions to syphon funds from banking apps to an account controlled by the attacker.
"Other dangerous features of Medusa include keylogging, accessibility event logging, and audio and video streaming , all of these capabilities give actors nearly complete access to [a] user's computer."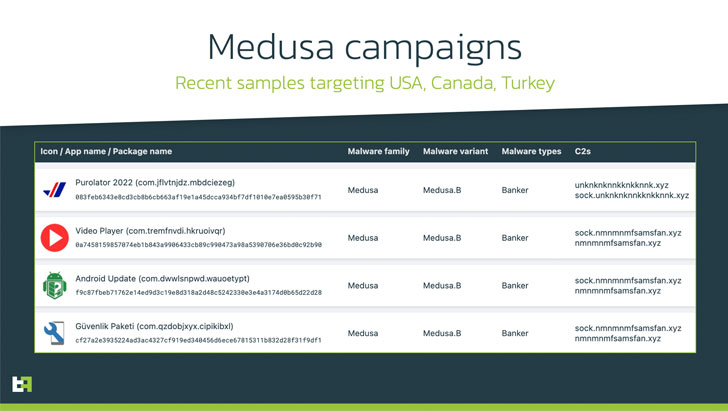 To infect devices, the malware-ridden apps used in conjunction with FluBot pose as DHL and Flash Player programmes. Furthermore, recent Medusa attacks have expanded their scope beyond Turkey to include Canada and the United States, with the controllers employing numerous trojan for each campaign.
Indicator Of Compromise
Medusa Samples
| App name | Package name | SHA-256 |
| --- | --- | --- |
| Video Player | com.xwlbouply.dbhxzcsgw | fe3d38316dc38a4ec63eac80e34cb157c9d896460f9b7b3bfbd2cec4e2cb8cdc |
| DHL | com.iqiyi.i18n | d83a06d5a41dd56b6cd3e9c3afef850ab07f176ae8f005759edb242daf7b9f38 |
| Voicemail | com.qq.reader | e2db34355df77e3c95e291a1374e4ba6a75d0da471ab9f929b9ef3424f824421 |
| Flash Player | com.thestore.main | 75f1bebe19feba3914a7bbf95a8ce742cb709658c2105cf2ebe8cf7ef0c43f23 |
| Amazon Locker | com.autonavi.minimap | b259fa47fc27728675a2629b98fbe4bb73c0b2216797a154f58c85f7578b3f4d |
Medusa C2
C2
essesessssssss.top
sock.essesessssssss.top:20027
nmnmnmfsamsfan.xyz
sock.nmnmnmfsamsfan.xyz:20027
unknknknnkknkknnk.xyz
sock.unknknknnkknkknnk.xyz:20027
pembesir.xyz
sock.pembesir.xyz:20027
asfsafsakjfkjsa.xyz
sock.asfsafsakjfkjsa.xyz:20027
Cabassous (Flubot) Samples
| App name | Package name | SHA-256 |
| --- | --- | --- |
| DHL | com.tencent.mobileqq | df98a8b9f15f4c70505d7c8e0c74b12ea708c084fbbffd5c38424481ae37976f |
| Flash Player | com.tencent.mobileqq | 2213a4d0a8d3752ce6edde18c2562478dc73c2c618842ca7b158282a0e525972 |
| Amazon Locker | com.autonavi.minimap | b2dafc4faea81f4addf1ac3a295627e9f7e1d36efa2a8b82a813d853cfcf87c4 |
| Voicemail | com.qiyi.video | a685fbeedd05341f0da64b774142c48ba68193a2a68fa42b3341038c26057e7c |
Cabassous C2
Domain
fpuacswjcgpcxoe[.]ru
ueihtnoujbedjiu[.]ru
umxkexskgtctvws[.]cn