Researchers reported that ,"The malware installed the evasive and persistent Adload adware in the most recent campaign, but UpdateAgent's ability to gain access to a device can theoretically be further leveraged to fetch other, potentially more dangerous payloads.
In October, we discovered and analysed a sophisticated Mac trojan, which revealed a year-long evolution of a malware family and exemplifies the increasing complexity of threats across platforms. The trojan, known as UpdateAgent, began as a relatively simple information-stealer but was recently observed distributing secondary payloads.
The malware is said to spread through drive-by downloads or advertisement pop-ups disguised as legitimate software such as video applications and support agents, even as the authors have made steady improvements that have transformed UpdateAgent into a more persistent piece of malware.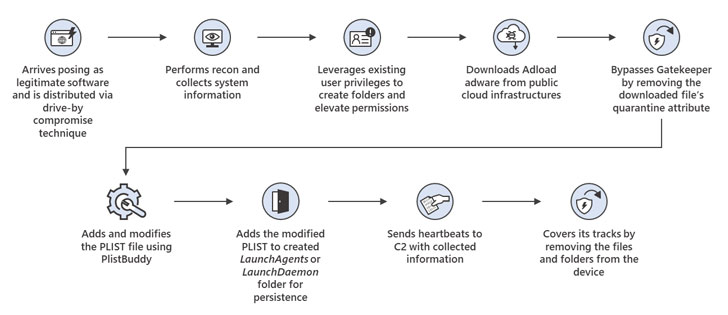 Among the most significant advancements is the ability to use existing user permissions to perform malicious activities in the background and circumvent macOS Gatekeeper controls, a security feature that ensures only trusted applications from known developers can be installed on a system.
Furthermore, UpdateAgent has been discovered to use public cloud infrastructure, specifically Amazon S3 and CloudFront services, to host its second-stage payloads, which include adware, in the form of.DMG or.ZIP files.
Finally the researchers concluded that ," Once installed, the Adload malware intercepts and reroutes users' internet traffic through the attacker's servers to insert ads into web pages and search engine results, increasing the chances of multiple infections on the devices. UpdateAgent is distinguished by its gradual upgrading of persistence techniques, a key feature indicating that this trojan will most likely continue to use more sophisticated techniques in future campaigns."
Indicators Of Compromise
Files (SHA-256)
1966d64e9a324428dec7b41aca852034cbe615be1179ccb256cf54a3e3e242ee
ef23a1870d84e164a4234074251205190a5dfda9f465c8eee6c7e0d6878c2b05
519339e67b1d421d51a0f096e80a57083892bac8bb16c7e4db360bb0fda3cb11
cc2f246dda46b17e9302242879788aa114ee64327c8de43ef2b9ab56e8fb57b2
5c1704367332a659f6e10d55d08a3e0ab1bd26aa97654365dc82575356c80502
c60e210f73d5335f57f367bd7e166ff4c17f1073fd331370eb63342ab1c82238
f01dec606db8f66489660615c777113f9b1180a09db2f5d19fb5bca7ba3c28c7
4f1399e81571a1fa1dc822b468453122f89ac323e489f57487f6b174940e9c2e
9863bc1917af1622fdeebb3bcde3f7bebabcb6ef13eae7b571c8a8784d708d57
a1fba0bb0f52f25267c38257545834a70b82dbc98863aee01865a2661f814723
81cfa53222fa473d91e2a7d3a9591470480d17535d49d91a1d4a7836ec943d3a
78b4478cd3f91c42333561abb9b09730a88154084947182b2ec969995b25ad78
91824c6a36ef60881b4f502102b0c068c8a3acd4bceb86eb4ffd1043f7990763
86b45b861a8f0855c97cc38d2be341cc76b4bc1854c0b42bdca573b39da026ac
84ff961552abd742cc2393dde20b7b3b7b2cfb0019c80a02ac24de6d5fcc0db4
0ee6c8fd43c03e8dc7ea081dfa428f22209ed658f4ae358b867de02030cfc69b
443b6173ddfbcc3f19d69f60a1e5d72d68d28b7323fe2953d051b32b4171aa9a
409f1b4aeb598d701f6f0ed3b49378422c860871536425f7835ed671ba4dd908
77f084b5fc81c9c885a9b1683a12224642072f884df9e235b78941a1ad69b80d
cbabbbb270350d07444984aa0ce1bb47078370603229a3f03a431d6b7a815820
053fbb833ac1287d21ae96b91d9f5a9cfdd553bc41f9929521d4043e91e96a98
29e3d46867caddde8bb429ca578dd04e5d7112dd730cd69448e5fb54017a2e30
356d429187716b9d5562fe6eee35ea60b252f1845724b0a7b740fbddec73350f
a98ecd8f482617670aaa7a5fd892caac2cfd7c3d2abb8e5c93d74c344fc5879c
c94760fe237da5786464ec250eadf6f7f687a3e7d1a47e0407811a586c6cb0fc
eb71d15308bfcc00f1b80bedbe1c73f1d9e96fd55c86cf420f1f4147f1604f67
0c08992841d5a97e617e72ade0c992f8e8f0abc9265bdca6e09e4a3cb7cb4754
738822e109f1b14413ee4af8d3d5b2219293ea1a387790f207d937ca11590a14
0d9f861fe4910af8299ac3cb109646677049fa9f3188f52065a47e268438b107
a586ef06ab8dd6ad1df77b940028becd336a5764caf097103333975a637c51fa
73a465170feed88048dbc0519fbd880aca6809659e011a5a171afd31fa05dc0b
d5c808926000bacb67ad2ccc4958b2896ea562f27c0e4fc4d592c5550e39a741
7067e6a69a8f5fdbabfb00d03320cfc2f3584a83304cbeeca7e8edc3d57bbbd4
939cebc99a50989ffbdbb2a6727b914fc9b2382589b4075a9fd3857e99a8c92a
c5017798275f054ae96c69f5dd0b378924c6504a70c399279bbf7f33d990d45b
57d46205a5a1a5d6818ecd470b61a44aba0d935f256265f5a26d3ce791038fb4
e8d4be891c518898dd3ccdff4809895ed21558d90d415cee868bebdab2da7397
9f1989a04936cd8de9f5f4cb1f5f573c1871b63737b42d18ac4fa337b089cbdc
b55c806367946a70d619f25e836b6883a36c9ad22d694a173866b57dfe8b29c9
e46b09b270552c7de1311a8b24e3fcc32c8db220c03ca0d8db05e08c76e536f1
f9842e31ed16fe0173875c38a41ed3a766041350b4efcd09da62718557ca3033
bad5dc1dd6ff19f9fb1af853a8989c1b0fdfeaa4c588443607de03fccf0e21c9