Researchers reported Monday that large biomanufacturing companies, including those that produce drugs and vaccines linked to the COVID-19 pandemic are being targeted by hackers linked to Russia.
The current campaign was reported by the Bioeconomy Information Sharing and Analysis Center (BIO-ISAC), and it involves a strain of malware known as "Tardigrade," which was initially discovered following a ransomware attack on an unnamed major biomanufacturing facility last spring.
Tardigrade is an advanced offshoot of SmokeLoader, a Windows-based backdoor operated by a group known as Smoky Spider and available for sale on underground markets dating back to 2011, with the former having the ability to capture keystrokes, laterally move across the compromised network, and escalate privileges.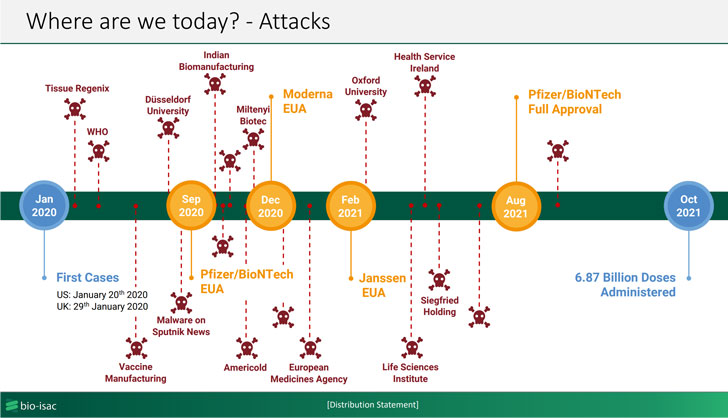 While the researchers did not directly credit the attacks, they did say that they were comparable to past attacks by a Russian-linked hacking outfit.
Ed Chung, chief medical officer at biomedical business BioBright, told The Hill. "This thing is still in motion; it's still evolving." "We wanted to hasten disclosure because it was evident that spread was still ongoing, this is a current hazard, and a major concern."
The Hill said that researchers at BioBright, a BIO-ISAC member, defined the hacking effort as "A-level," implying that a foreign government was involved.
Chung reported that "What we can deduce from the targeting and intricacy of this is that this is complexity on a level that we haven't seen before in this business." "Everyone needs to assume that something like this would target us".
According to them we got the information as , the malware appeared to be customised for biomanufacturing companies and was tough to detect and remove.
Furthermore, the malware serves as an entry point for other malware payloads and is designed to run independently even when disconnected from its command-and-control server in order to carry out its harmful actions. To avoid the dangers, biomanufacturing companies should install software upgrades, enforce network segmentation, and test offline backups of important biological infrastructure.
Finally the researchers concluded that ,"Because of its metamorphic characteristics, this virus is incredibly difficult to detect. It's critical to keep an eye on key people business computers many PCs in the industry are running obsolete operating systems. Accelerate upgrading timescales by aggressively segmenting them off."