Cybersecurity firm ThreatFabric identified a malware campaigns which are designed to deliver Anatsa (aka TeaBot), Alien, ERMAC, and Hydra, are not only more refined, but also engineered to have a small malicious footprint. Additionally it ensures that the payloads are installed only on smartphones devices from specific regions and preventing the malware from being downloaded during the publishing process.
Since June 2021, ThreatFabric has found six Anatsa droppers on the Play Store, each of which is programmed to download a "update" before demanding users to grant it permissions to install apps from unknown third-party sources and access to the Accessibility Service.
Brunhilda, a threat actor first discovered in July 2021 for delivering the Vultur remote access trojan, used trojanized apps posing as QR code maker apps to distribute Hydra and ERMAC malware to users in the United States, a market ignored by the two malware families.
Between August and November 2021, four different Android banking trojans were propagated through the official Google Play Store, resulting in over 300,000 infections using multiple dropper apps that posed as seemingly harmless utility apps to take complete control of afflicted devices.
Once installed, these banking trojans can steal user passwords and SMS-based two-factor authentication credentials such as keystrokes, screenshots, and even drain users' bank accounts without their awareness, thanks to a technology known as Automatic Transfer System (ATSs). Since then, the apps have been withdrawn from the Play Store.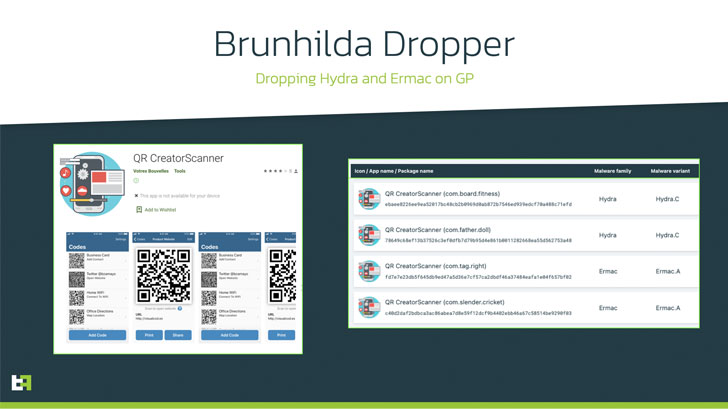 The list of malicious dropper apps is below –
Two Factor Authenticator (com.flowdivison)
Protection Guard (com.protectionguard.app)
QR CreatorScanner (com.ready.qrscanner.mix)
Master Scanner Live (com.multifuction.combine.qr)
QR Scanner 2021 (com.qr.code.generate)
QR Scanner (com.qr.barqr.scangen)
PDF Document Scanner – Scan to PDF (com.xaviermuches.docscannerpro2)
PDF Document Scanner Free (com.doscanner.mobile)
CryptoTracker (cryptolistapp.app.com.cryptotracker)
Gym and Fitness Trainer (com.gym.trainer.jeux)
A fitness training dropper app called GymDrop was discovered delivering the Alien banking trojan payload by creating a fake it as a "new package of workout exercises," even as its essentially legitimate developer website doubles as the C2 server to fetch the configuration required to download the malware.
Finally the Researchers concluded that "To make themselves even more difficult to identify. The actors behind these dropper programmes only manually start the installation of the banking trojan on an infected device if they want more victims in a specific region of the world." "This makes automated detection a considerably more difficult method for any firm to adopt."
Indicators Of Compromise
Brunhilda Dropper Samples
| App name | Package name | SHA-256 |
| --- | --- | --- |
| Two Factor Authenticator | com.flowdivison | a3bd136f14cc38d6647020b2632bc35f21fc643c0d3741caaf92f48df0fc6997 |
| Protection Guard | com.protectionguard.app | d3dc4e22611ed20d700b6dd292ffddbc595c42453f18879f2ae4693a4d4d925a |
| QR CreatorScanner | com.ready.qrscanner.mix | ed537f8686824595cb3ae45f0e659437b3ae96c0a04203482d80a3e51dd915ab |
| Master Scanner Live | com.multifuction.combine.qr | 7aa60296b771bdf6f2b52ad62ffd2176dc66cb38b4e6d2b658496a6754650ad4 |
Brunhilda Dropper C2 URL
URL
hxxps://protectionguardapp[.]club
hxxps://readyqrscanner[.]club
hxxps://flowdivison[.]club
hxxps://multifuctionscanner[.]club
Anatsa Dropper Samples
| App name | Package name | SHA-256 |
| --- | --- | --- |
| QR Scanner 2021 | com.qr.code.generate | 2db34aa26b1ca5b3619a0cf26d166ae9e85a98babf1bc41f784389ccc6f54afb |
| QR Scanner | com.qr.barqr.scangen | d4e9a95719e4b4748dba1338fdc5e4c7622b029bbcd9aac8a1caec30b5508db4 |
| PDF Document Scanner – Scan to PDF | com.xaviermuches.docscannerpro2 | 2080061fe7f219fa0ed6e4c765a12a5bc2075d18482fa8cf27f7a090deca54c5 |
| PDF Document Scanner | com.docscanverifier.mobile | 974eb933d687a9dd3539b97821a6a777a8e5b4d65e1f32092d5ae30991d4b544 |
| PDF Document Scanner Free | com.doscanner.mobile | 16c3123574523a3f1fb24bbe6748e957afff21bef0e05cdb3b3e601a753b8f9d |
| CryptoTracker | cryptolistapp.app.com.cryptotracker | 1aafe8407e52dc4a27ea800577d0eae3d389cb61af54e0d69b89639115d5273c |
Anatsa Dropper C2 URL
URL
hxxp://195.201.70.88/api/update
hxxp://178.63.27.179/api/update
hxxp://91.242.229.85/api/update
hxxp://195.201.70.89/api/update
Gymdrop Dropper Samples
| App name | Package name | SHA-256 |
| --- | --- | --- |
| Gym and Fitness Trainer | com.gym.trainer.jeux | 30ee6f4ea71958c2b8d3c98a73408979f8179159acccc01b6fd53ccb20579b6b |
| Gym and Fitness Trainer | com.gym.trainer.jeux | b3c408eafe73cad0bb989135169a8314aae656357501683678eff9be9bcc618f |
Gymdrop Dropper C2 URL
URL
hxxps://onlinefitnessanalysis[.]com/
Malware Samples dropped
| Malware Family | App name | Package name | SHA-256 |
| --- | --- | --- | --- |
| Alien.A | Master Scanner Live | leaf.leave.exchang | 74407e40e1c01e73087442bcdf3a0802121c4263ab67122674d9d09b3edf856e |
| Alien.A | Gym and Fitness Trainer | gesture.enlist.say | e8cbcc34af3bd352767b7a9270dd684a50da2e68976a3712675526a7398550a0 |
| Anatsa.A | PDF AI : TEXT RECOGNIZER | com.uykxx.noazg | d42e0d3db3662e809af3198da67fdbd46d5c2a1052b5945401e4cdd06c197714 |
| Hydra.C | QR CreatorScanner | com.cinnamon.equal | 9ab66c1b7db44abaa53850a3d6a9af36c8ad603dab6900caba592497f632349f |
| Ermac.A | QR CreatorScanner | com.tag.right | fd7e7e23db5f645db9ed47a5d36e7cf57ca2dbdf46a37484eafa1e04f657bf0 |