According to unsealed court documents, Yaroslav Vasinskyi, 22, is accused of being a part of the ransomware operation since at least March 2019 and deploying approximately 2,500 attacks against businesses worldwide. Vasinskyi was apprehended at the Polish border on October 8 following the issuance of an international arrest warrant at the request of US authorities.
The US government charged a Ukrainian suspect arrested in Poland last month with deploying REvil ransomware to target multiple businesses and government entities in the country, including the attack on software company Kaseya, in the latest action to crack down on the cybercrime group and prevent further attacks.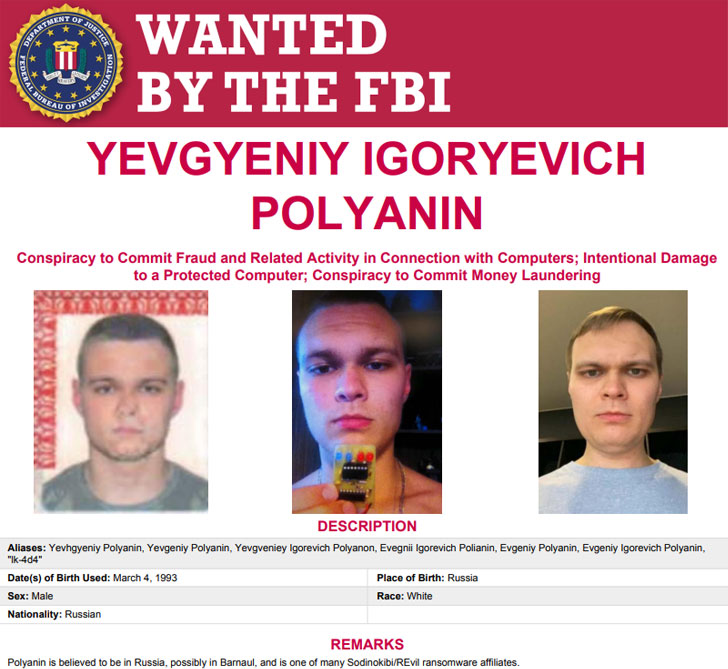 The Justice Department announced the seizure of $6.1 million in alleged ransomware payments received by Russian national Yevgeniy Polyanin, who is currently at large and is accused of conducting REvil ransomware attacks against multiple businesses and government entities in Texas beginning on August 16, 2019.
Vasinskyi and Polyanin have been charged with conspiracy to commit fraud and related computer activity, substantive counts of causing damage to protected computers and conspiracy to commit money laundering. If convicted on all counts, both defendants face a maximum prison sentence of 115 and 145 years respectively.
U.S. Attorney Chad E. Meacham for the Northern District of Texas in a statement." To hijack victim computers, these two defendants used some of the internet's most virulent code, written by REvil. To find cyber criminals, the Department will continue to search the darkest corners of the internet the furthest reaches of the globe."
The department reported that ," Chatex has direct ties with SUEX OTC, S.R.O. (Suex) and conducts transactions using Suex's function as a nested exchange."
The arrests and sanctions are part of a larger effort to combat ransomware attacks which have increased in frequency and scale this year, putting critical infrastructure at risk and causing millions of dollars in damage, prompting international authorities to respond effectively to such intrusions while also combating the use of cryptocurrency channels to launder money.